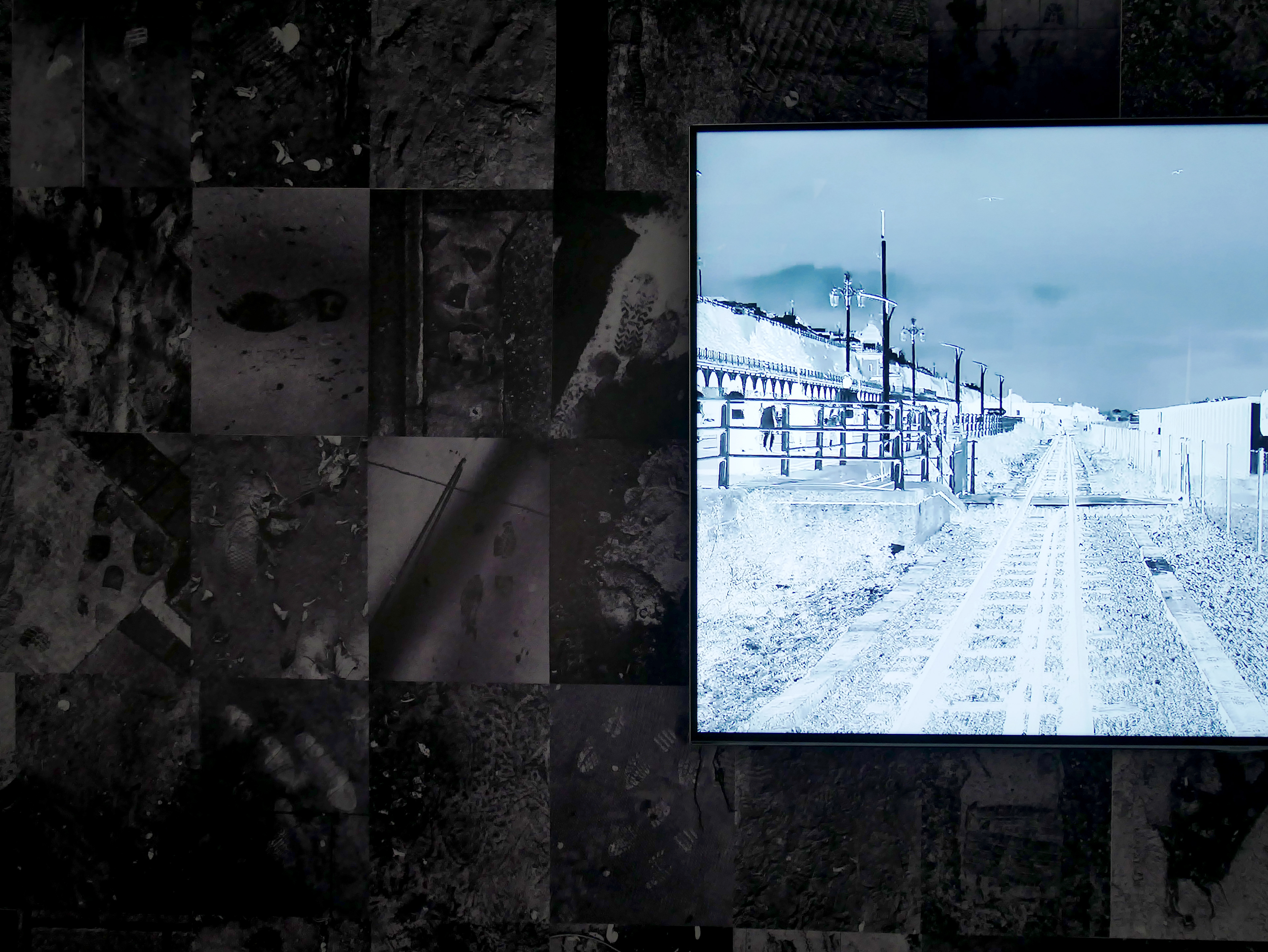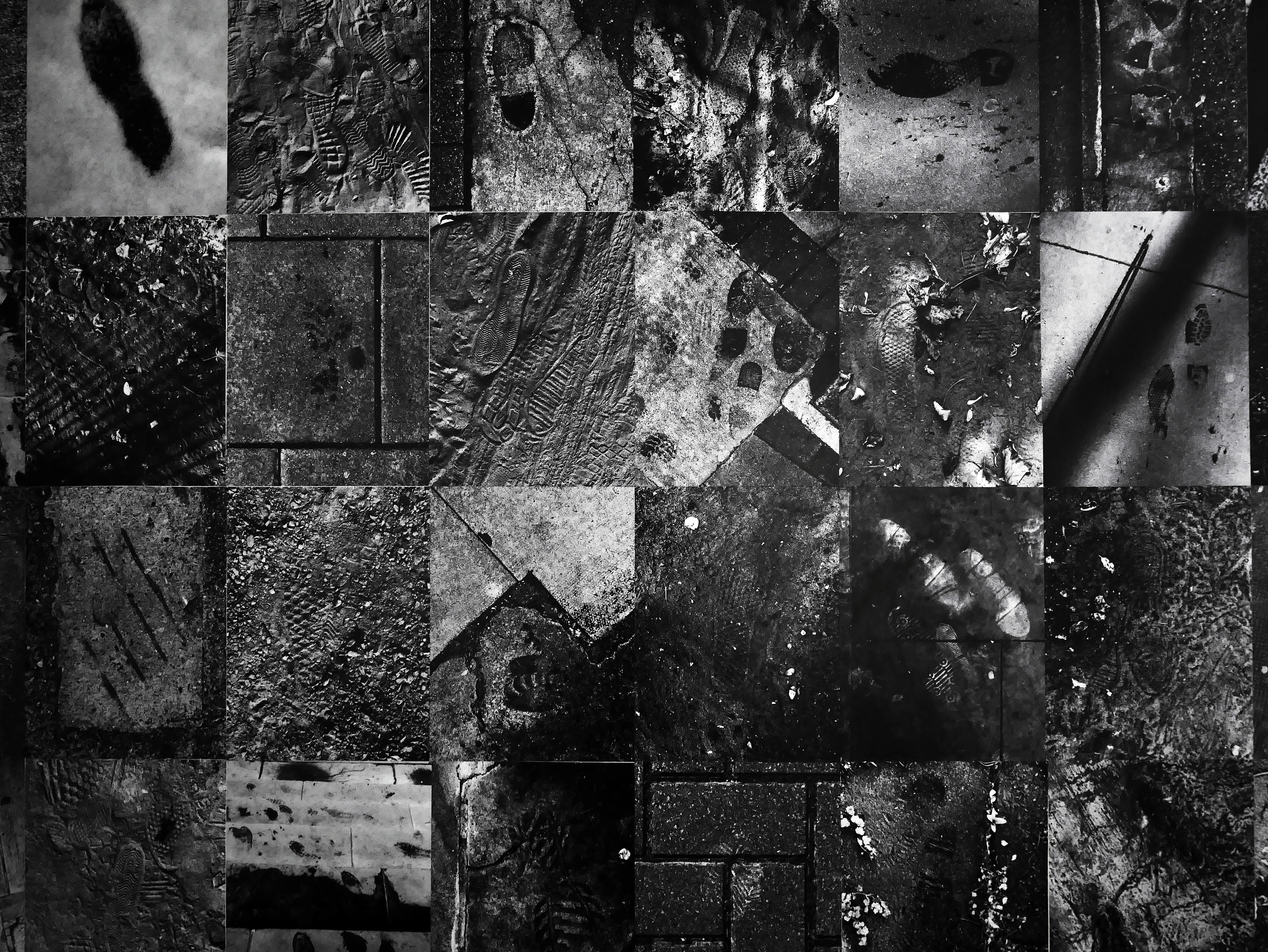 There is no there, there
(2019) is a time-based multimedia project presented in the MFA degree show at University of the Arts London: Wimbledon. The work was adapted to this specific location and context, featuring a video with sound through an LCD screen mounted on a wall, installed with photographic vinyl prints.
In the version illustrated above, the video is a montage showing diverse landscapes captured on journeys from one place to another, while the prints is a collection of 100 photographs documenting footprints randomly found in transient spaces, punctuated by ambient sounds of travel and footsteps. These materials were selected from an organic accumulation of digital files created using smartphone cameras, gathered informally from different places over a number of years.
The work is an attempt to stimulate a meditation on the movement of people, from the microcosm of walking around a neighbourhood to the global scale of international travel, alluding to its wider and nuanced contexts relating to migration, geo-politics and the environment which currently dominate public consciousness.
The footage of journeys aim to represent the action while the footprints intend to illustrate its traces, effect or residue, thematically linking both elements as part of the same ecosystem or thread. This theme emerged naturally in the process of selecting and editing video clips from a personal archive, when I was drawn to the visual qualities of the panning and zooming footage of different landscapes, which led me to think about ideas around movement of people, time, collections, and current affairs.
The prints on the wall were later additions to further develop the concept as a response to specific conditions of its allocated space, purposely choosing black and white as a colour and regular grid as a pattern after considering other elements in the room.
The title hopes to reinforce these layers within the work. 'There is no there, there' is a phrase attributed to writer Gertrude Stein, a remark in her book 
Everybody's Autobiography 
(1937) in reference to the loss of her childhood home which is no longer there, a sentiment that may resonate with anyone who has ever moved between places in some way.
On one level, this phrase sums up my personal observations on journey and movement, in that it always happens and always will as time marches forward to change everything again and again, leaving behind traces through material or imprints that are often ephemeral or peripheral, and memories that may last longer but will also fade.
Considering the video through the lens of current affairs, the title aims to reflect the reality of migration for many people today, often forced to move by natural disasters, conflict or lack of resources and opportunities, yet more increasingly find themselves in a state of limbo where they can no longer sustain a decent and safe life in one place, but may not necessarily find another, as seen in the different waves of recent migration crises.
Notably, the video and photographs have been collected from my own freedom to move around, a kind of privilege in itself that is not necessarily available to many others elsewhere, apparently determined by the accident of birth and/or circumstance. I hope this juxtaposition between the material and the allluded themes can help stimulate reflections on notions around movement and migration, including: Who has the right to move around? And why? Why do people move or travel? Where do people come from? Where do people go? And why? What are the implications? What is left behind? Who is left behind? What is 'there'? What is 'here'? And where do we go from here?
This work is part of ongoing projects exploring accumulations, traces and places, with other iterations and developments possible depending on context and space.