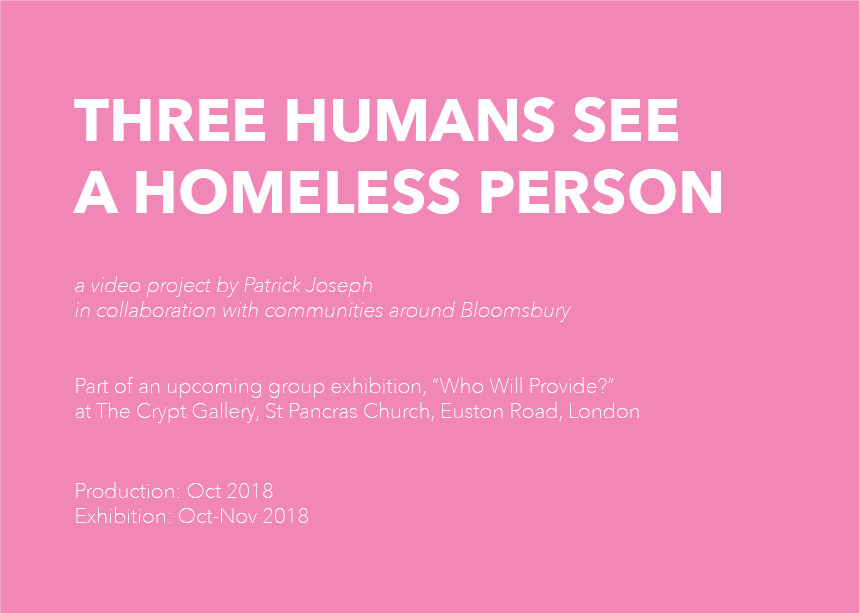 PREMISE
A brief conversation between three people as they wait for a friend, casually discussing their reactions and opinions on life triggered by seeing a homeless person.
Four characters to be played multiple times by different kinds of people from various local groups.

The short 5-page script is based on real and recent conversations found online.
CONCEPT
Part of a site-specific installation within a group exhibition, the video aims to reflect on notions of community, homelessness, charity, success, failure and merit through direct engagement with local groups as an attempt to tap into the history and geography of the venue: The Crypt Gallery at St Pancras Church, Bloomsbury, London.
STYLE
Shot in one continuous static flow
Characters in silhouette through back lighting
MEDIUM
Digital Video

LOCATION
Indoors -  a room
Details TBC depending on each group (within London)
FEES
Unpaid and voluntary only due to lack of budget, apologies.
Travel costs, snacks and drinks provided where appropriate.
PRODUCTION DATES
Ideally around mid-October 2018
EXHIBITION DATES
End of Oct to first week of Nov 2018
To be launched with an evening preview at end of Oct/start of Nov
CONTACT
For enquiries and/or suggestions, please email:
hello@patrickjoseph.net

Thank you for your time, interest and cooperation.